Got a call the other day from one of my dearest girlfriends who was looking for a cute little desk for her bedroom.  She asked me if I thought I could find her one to fix up and make it her own.  I of course said, "Absolutely!"  I immediately started out on my search for a petite desk with potential.
The next day, Chris and I happened to stop by IKEA for a few supplies, and on the way home we made our usual "peak ins" at the neighborhood Goodwill stores.  I always beeline straight to the furniture section.  That day, there just happened to be a little desk left behind that was chipped up, scratched up, stained and missing a knob.
It definitely needed to be saved!  I immediately took a picture of the desk and sent it directly over to my girlfriend for the OK.  5 minutes later, the desk was hers. 🙂 Now I just needed to get to work.
My girlfriend knew exactly what she wanted.  She was a pink girl at heart, so she decided to go with Annie Sloan's French Linen for the desk and a custom pink top with matching striped drawers.  I knew her taste, so this was nothing new to me.  Her kitchen chairs were pink…her living room coffee table was pink…so of course she would have a pop of pink in her bedroom/office!  How fun! I couldn't wait to get started.
I started the desk project off by cleaning up the desk.  Yes I am definitely all about having unique pieces with imperfections all throughout my house, but this desk still needed some work to get it ready for painting.  The top of the desk and a few of the drawers were showing their age by the crackling of the paint.  Before I started painting, I made sure to fill in the crackled top with wood filler and sanded it down for a smooth finish.  If I would have painted directly over that imperfection, the paint would never have went on smooth and would forever continue to show cracking wear in sporadic  areas
Next, it was time for the Annie Sloan French Linen chalk paint…
To add a pop of her favorite color, we decided to add stripes to the drawers in two different shades of pink.
I started by mixing a little Annie Sloan Old White to a little Annie Sloan Emperor's Silk until I had the perfect shades of light pink and dark pink.
I then painted all of the drawers the lighter shade of pink.
added some blue painters tape….
I painted the non-taped section the dark pink.
I think they turned out great. What a cute pop of color!
To finish it off, we changed out the old hardware for some new "bling".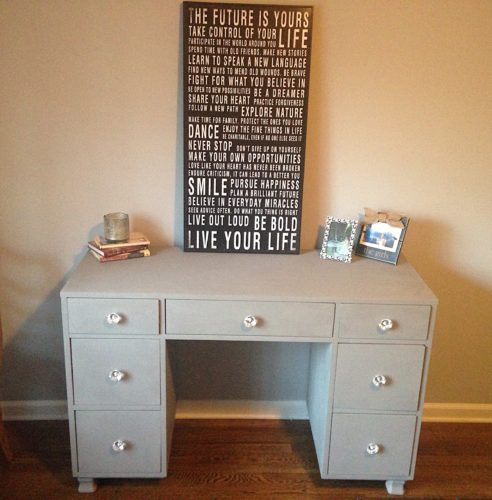 and pulled it all together with a pink accented top!
Her exact words were, "I LOVE IT!!! IT IS PERFECT!"
 Another satisfied customer! 🙂
"For more information on any of our pieces or to have a piece custom reclaimed for you please send us a note"